Facts About the Urban Prep Englewood Lions
School Name: Urban Prep Charter Academy for Young Men - Englewood Campus

School Location: Chicago, Illinois

Founded: 2006

School Website: http://urbanprep.org

Enrollment: 876

Team Nickname: Lions

School Colors: Red & Gold

Conference Affiliation: Chicago Public League White South

Head Basketball Coach: Fred Cleveland

2015-2016 Season: 9-15

Players to Watch in 2016-2017: Fred Cleveland II is a returning All-Conference selection from his freshman year, leading the team in scoring (15.5 ppg) and assists (5.0 apg). Jayden Gasby was another All-League pick as a sophomore, who averaged 14.8 points per games and eight rebounds per contest. Davontae Williams is a junior that averaged eight points, six boards and three steals a game as a sophomore.
YOUTH MOVEMENT CONTINUES AT URBAN PREP ENGLEWOOD

Most basketball fans never really heard of Urban Prep Englewood when their name was announced in the inaugural Hinsdale Central Holiday Classic. Word on the street was that they had some good young talent. A year later, that word was right. Start with Fred Cleveland II, a five-foot, three-inch dynamo and the son of head Coach Fred Cleveland, Sr. The younger Cleveland was not only an All-Chicago Public League All-Conference selection as a freshman last year, as he led the team in scoring and assists, but he also established the Hinsdale Central Holiday Classic record for most three-point baskets in a tournament with 14 in four games, becoming an instant fan favorite. 6-4 junior forward Jayden Gasby was a workhorse under he basket during his sophomore season averaging 14.8 points and eight rebounds a game, being named to the All-League team and becoming a Double-Double waiting to happen. One other junior-to-be, Davontae Williams, had an admirable year on the varsity as a sophomore filling the boxscore in points, rebounds and steals. The future is looking good for Urban Prep Englewood.

Fast Facts: Urban Prep Academies is a nonprofit organization that operates a network of free open-enrollment public all-male college-preparatory high schools in Chicago. Founded in 2002, it operates the first first all-male public charter high school in the United States. For seven straight years since 2010, 100% of the seniors in the school's graduating class were admitted to four-year colleges or universities.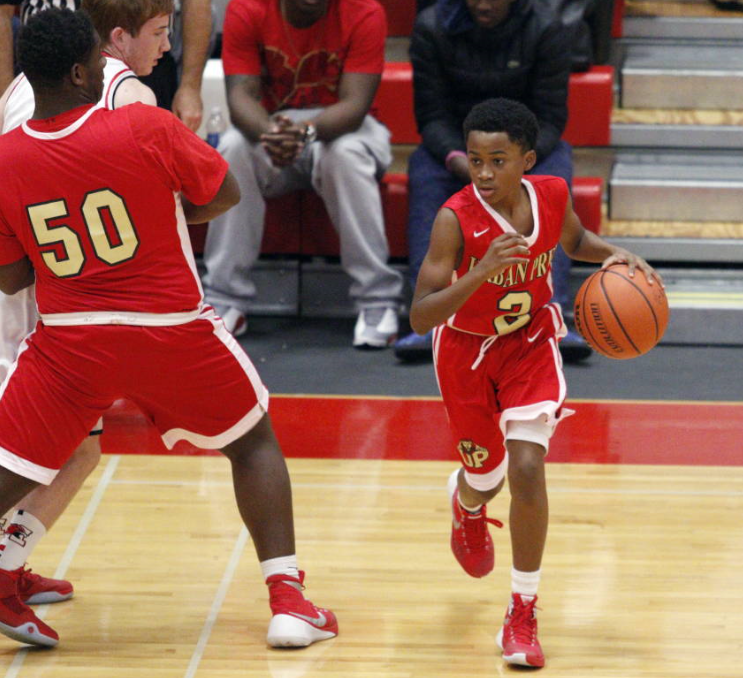 He might be small but sophomore Fred Cleveland II can put up big numbers