Facts About the Marian Catholic Spartans
School Name: Marian Catholic High School

School Location: Chicago Heights, Illinois

Founded: 1958

School Website: http://www.marianchs.com/

Enrollment: 1039

Team Nickname: Spartans

School Colors: Black, White and Yellow

Conference Affiliation: East Suburban Catholic

Head Basketball Coach: Mike Taylor (fifteenth season at Marian Catholic)

2015-2016 Season: 23-6

State Series History: Sectional Champions 2013, 2014. Regional Champions 1991, 2006, 2009, 2013, 2014, 2016.

Notable Alumni: Tyler Ulis, basketball player for Kentucky Wildcats and Phoenix Suns; Shonda Rhimes, creator of Grey's Anatomy; Professional football players Rodney Harrison; John Holecek; Dennis Kelly, Mike Priorr and John McGarry.

Players to Watch in 2016-2017: 6-8 TeeAaron Powell; 6-5 Warren Allen; 6-3 Sean Taylor; 6-1 junior Brandon Hurt; 5-8 junior Chase Adams all return from a 23-6 team.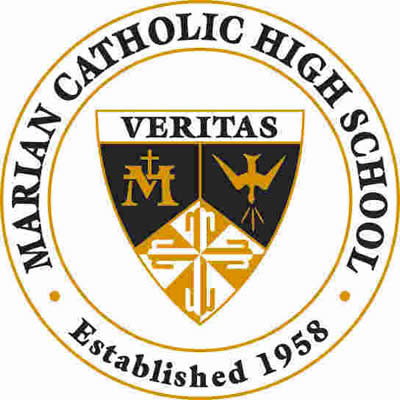 DEPTH, BALANCE TAKING MARIAN CATHOLIC BACK TO THE TOP
Marian Catholic became a household name when guard Tyler Ullis played there. Since then the Spartans haven't missed a beat. They have won 23 or more games in four of the last five seasons, own three regional championship and two sectional titles. Over the past five years they have won 117 games while losing only 35. Last season they were eliminated by Simeon in the sectional semifinal 62-57. This year there is again an upbeat feeling with the return of a wealth of experienced players from last year's 23-6 team that all fit cohesively into coach Mike Taylor's plan to success. The Spartans will be very balanced and have the luxury of going 10 players deep. Senior TeeAaron Powell is a 6-8 strong post player who can step away from the basket. Warren Allen is a 6-5 versatile big man who attacks the basket well. 6-3 senior Sean Taylor has excellent range. 6-1 junior Brandon Hurt is a strong guard who defends well and attacks the basket and 5-8 junior Chase Adams is a skilled point guard who handles and distributes the ball. Look for the Spartans to have excellent chemistry and make another run deep into the post-season.

Fast Facts: The Dominican Sisters of Springfield oversaw the new school when it opened in 1958. The school has won athletic state championships in football in 1993, baseball in 2012 and girls basketball in 2013.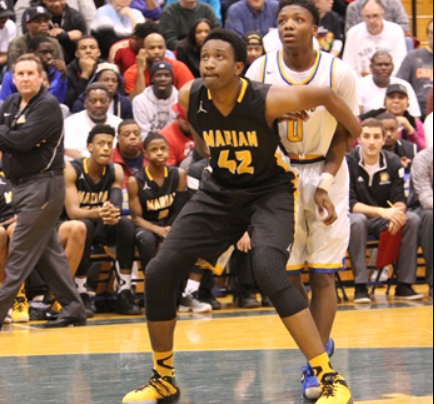 Marian's TeeAaron Powell is a big body who can score