Facts About the DePaul College Prep Rams
School Name: De Paul College Prep High School

School Location: Chicago, Illinois

Founded: 1952

School Website: www.depaulprep.org

Enrollment: 509

Team Nickname: Rams

School Colors: Orange and Blue

Conference Affiliation: Chicago Catholic League

Head Basketball Coach: Tom Kleinschmidt (fifth year as head coach at DePaul)

2015-2016 Season: 15-15, IHSA Regional Champions

State Series History: Head basketball Coach Tom Kleinschmidt led his team to a second place finish in the state tournament in 1990. The Rams also were a state finalist in 1980.

Notable Alumni: Tom Kleinschmidt was the Great Midwest Conference Player of the Year in 1995 while playing for DePaul University; Jitim Young, Northwestern Basketball Player; Dennis Tufano, was the original lead singer of the rock and roll group The Buckinghams.

Players to Watch in 2016-2017: A pair of sophomores in 6-4 guard Perry Cowan and 6-6 Pavle Pantovic look to be the cornerstones for year to come. Keep an eye on a pair of incoming freshman, point guard Elliot Seiger and 6-1 guard Lance Mosley.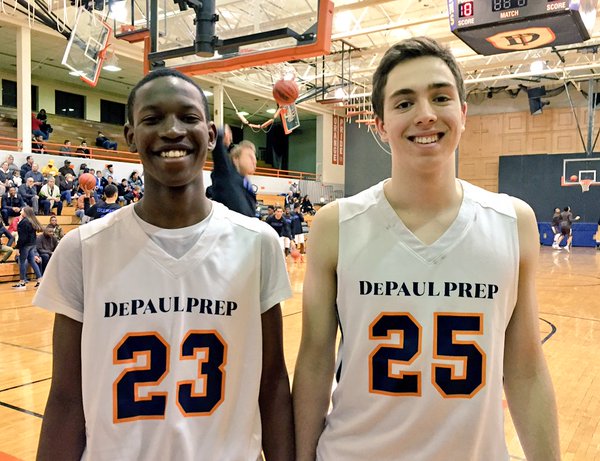 Perry Cowan (Left) and Pavle Pantovic (right) are standouts in the Class of 2019


FUTURE LOOKING BRIGHT FOR YOUNG RAMS

On the opening day day of the inaugural Hinsdale Central Holiday Classic, DePaul College Prep upset Saint Charles East 50-47 in overtime. A touted freshman became the talk of the tournament when Perry Cowan scored 17 points. As the season progressed another freshman in 6-6 Pavle Pantovic gained valuable experience on the varsity level logging big minutes. The Rams not only return those two players for the next three years but have plenty of more youthful standouts that should have the Rams in a good place for year to come. Despite their youth, DePaul managed to win their second straight IHSA Regional Championship last season. The Rams have averaged 18 wins per season of the last four years. Coach Tommy Kleinschmidt is bring back the winning ways he enjoyed when he was a player at Gordon Tech, the school's original name. The Rams placed second the 1990 State Tournament, behind future McDonald's All-American Kleinschmidt. Senior Fred Nunez, an athletic scoring guard, will expect to fill the scorebook and add a leadership role. A pair of incoming freshman in Elliot Sieger and Lance Moseley could be the next pieces of a dynasty in the making.


Fast Facts: The school was originally named Gordon Technical High School in honor of the Very Reverend Francis Gordon, an influential and high ranking member of the Congregation of the Resurrection. The school was renamed DePaul College Prep in the summer of 2014. The school was all-male until August, 2002 after the all-girls Madonna High school closed. Former Bradley head coach and long-time NBA executive Dick Versace was the school's head basketball coach from 1969-1973.