Facts About the Glenbrook North Spartans
School Name: Glenbrook North High School

School Location: Northbrook, Illinois

Founded: 1952

School Website: https://www.glenbrook225.org/gbn/Home

Enrollment: 1997

Team Nickname: Spartans

School Colors: Green & Gold

Conference Affiliation: Central Suburban North

Head Basketball Coach: David Weber

2015-2016 Season: 15-12, 7-3 Conference Runner-Up

State Series History: IHSA State Champion, 2005; IHSA Third Place, 2003; State Finals Qualifier 1993 and 1995.

Notable Alumni: Film Director John Hughes; Don Ohlmeyer, NBC President; Anne Henning, Olympic Gold Medal Speed Skater; Chris Collins, Northwestern Basketball Coach; Major League Baseball players Jason Kipnis, Doug Rader and Scott Sanderson.

Players to Watch in 2016-2017: James Karis, 5-11 senior point guard; Kellen Witherell, 6-4 junior forward; Luke Amen, 6-1 senior guard.


GBN LOOKING TO RETURN TO ITS WINNING TRADITION

Glenbrook North has been the King of north suburban basketball. Brian James took the Spartans to two state finals appearances in a three year period. The team went 84-8 from 1992-95 and featured Chris Collins, the basketball coach at Northwestern. David Weber followed in the coaching ranks and had two state finals qualifying appearances himself, finishing in third place in 2003 and capturing the Class AA state championship in 2005. That team featured Jon Scheyer who would win an NCAA title for Duke University in 2010 and then work as an assistant coach to Mike Kryzewski at his collegiate alma mater. The Spartans were 134-23 during a five year stretch from 2002-2009. Last year North placed second in the Central Suburban North League and will return three starters from that club. James Karis is a 5-11 point guard and has been a two-year starter for the Spartans. Karis averaged 10 points per game last year and can both drive to the basket or hit the perimeter shot. Kellen Witherall, is a 6-4 junior forward who earned All-Conference honors in his sophomore year. He is multi-faceted as he can play inside or step outside for a three pointer. 6-1 senior Luke Amen is back at one of the backcourt positions and is very fast and can get to the rim in the open court. The nucleus is in place to see the Spartans return to being a contender for the King of the northern suburbs and return to their winning ways.

Fast Facts: One of two high schools in the Glenbrook High School District 225, North is the mother school of the district opening in 1952, as Glenbrook South was built ten years later. The school ranked number one globally in international science testing as part of the First in the World Consortium in 1997. Sitting President Bill Clinton gave a speech at the school in January of 1997 and referenced the school's academic excellence in the 1997 State of the Union that following month. The school is also known as being the backdrop for the movies "The Breakfast Club" and Ferris Bueller's Day Off". John Hughes directed both those films and is a graduate of Glenbrook North.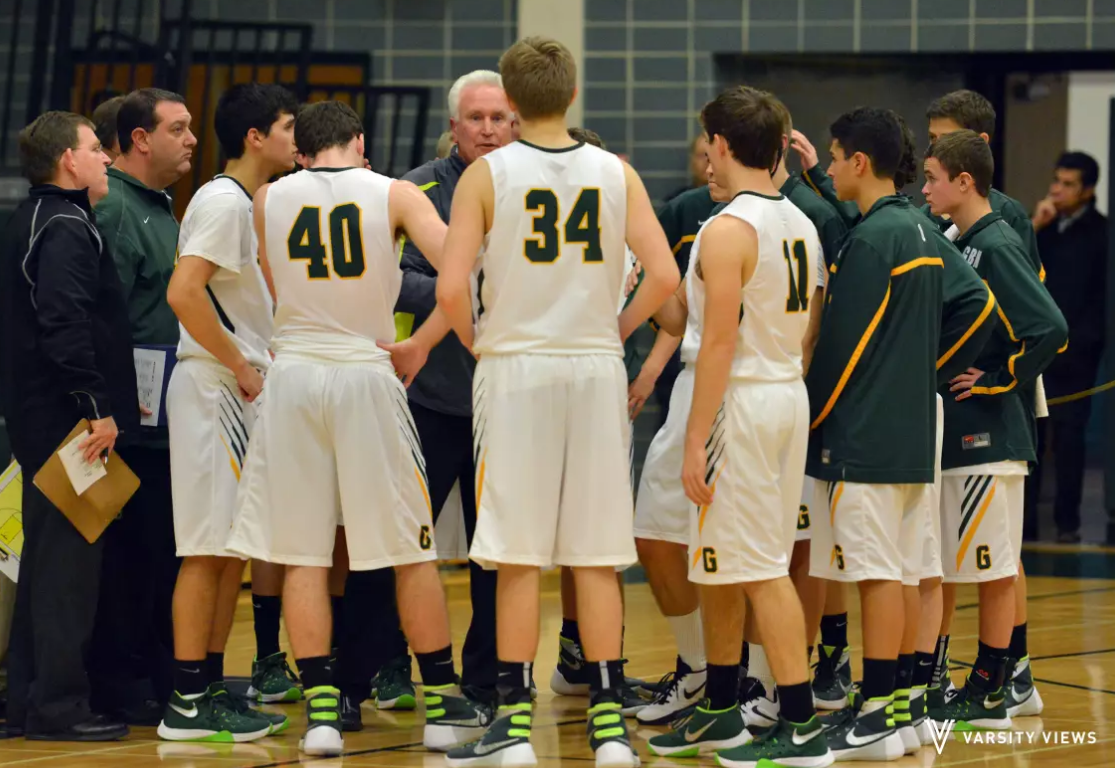 Glenbrook North coach David Weber has been at the helm for many Spartans victories