2016 All-Tournament Team
ALL-TOURNAMENT TEAM
FIRST TEAM
Chase Adams – Marian Catholic
Chase Adams averaged 14.3 points per game and ranked second in the tournament in assists per game at 5.8. He also led the tournament in steals with 18.

Malik Binns – Bolingbrook
Binns was one of just two players in the tournament to average a double-double. He led the tournament champions in both scoring and rebounding, averaging over 16 points and 10 rebounds per game.

Justin Hardy - St. Charles East
One of the top scorers in the tournament while averaging 18.3 points per contest for the Saints while shooting 61.2 percent from the floor. He also shot 58.3 percent from three-point range and averaged 5.5 rebounds per game.

Justin Smith – Stevenson
The tournament's leading scorer at 21.5 points per game, finished just shy of averaging a double-double while finishing at 9.8 rebounds per game. Smith shot 60.7 percent from the floor while also dishing out 10 assists over the four days.

Nana Akenten – Bolingbrook (MVP)
Akenten averaged over 14 points per game for our tournament champions. He was the leading scorer for the Raiders in the championship game with 23 points and he committed zero turnovers for the entire tournament.
ALL-TOURNAMENT TEAM
SECOND TEAM

Perry Cowan – DePaul Prep
Cowan averaged 11.5 points for our fourth-place finishing team, DePaul Prep. He shot a team-best .526 from the field for the tournament.

Malik Hardman – Crete-Monee
One of just two players to average a double-double for the tournament, he averaged 14.8 points and 10.3 rebounds per game while also totaling nine blocks and shooting 59.1 percent from the floor in the tournament.

Jack Hoiberg - Hinsdale Central
Hoiberg finished the tournament with an average of 16.3 points per game. He scored 32 points against DePaul Prep in the quarterfinals on Wednesday night, the highest single-game total of this year's tournament.

Coreyoun Rushin - Westinghouse
Rushin led Westinghouse to the fifth-place trophy by averaging a team-leading 16.8 points per game. He averaged 8.5 rebounds per game while also shooting 60.5 percent from the floor and totaling eight steals.

Jeffrey Boyd – Homewood-Flossmoor
The leading scorers for the tournament runner-up, Boyd averaged over 15 points per game and led the team in three-pointers made. He scored 18 points in tonight's championship game.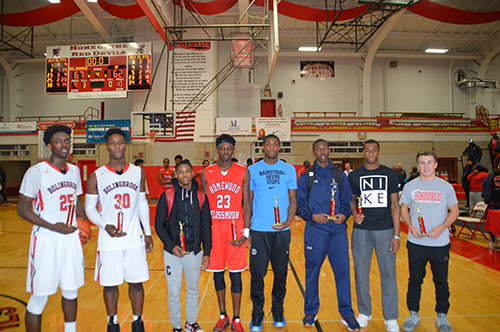 Members of the 2016 All-Tournament Team: From Left to Right (Nana Akenta, Malik Binns, Chase Adams, Jeffrey Boyd
Coreyoun Rushin, Perry Cowan, Malik Hardmon, Jack Hoiberg )